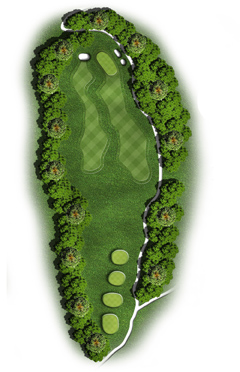 In 1823, the Blackstone Canal Company was chartered to build a connection from Providence RI to Worcester MA along (and sometimes through) the course of the Blackstone River. Within 3 years, the canal and its 48 locks were completed and the "Lady Carrington" completed its first passage over the entire length of the canal. During its short 25 year history (1823 – 1848), the canal spurred the further development of industry along the Blackstone. The arrival of the Providence and Worcester Railroad in 1844 along the same route spelled the end of the canal as rail service became the preferred method of transporting goods.
Just ¼ mile from here, the remnants of the canal can still be seen, as well as the "towpath" which ran adjacent to the canal. Often running slightly above the canal, the towpath was used by teams of oxen to pull the barges upstream.
A similar arrangement is visible on this interesting Par 4. A player can choose either the lower or upper fairway which meet at the slightly elevated green.