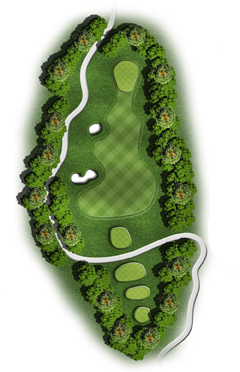 Behind this tee is the quaint mill village of Rockdale, one of the five boroughs of the Town of Northbridge. The houses you can see through the trees on your left are reminders of an earlier time in New England, where rows of mill houses surrounded factories built on the banks of rivers.
In the mid – 1800's the town of Northbridge was renown for its manufacturing base, the largest of which was the Whitin Machine Works – the largest producer of knitting machines in the world. Throughout the Town, five distinct mill villages developed around the outskirts of the major mills, each bearing it's own place-name. Be it Whitinsville, Rockdale, Riverdale, Linwood and Northbridge Center.
This hole is a long Par 3 to a narrow green. The ideal shot is to the right side of the green to avoid the deep grass bunker on the left.